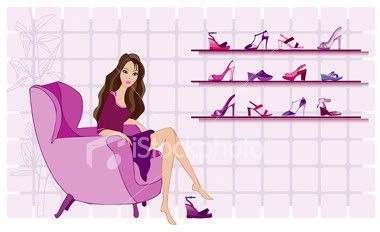 Sunday, September 30, 2007
I am so nervous. I have a job interview this Tuesday. This is my very first interview so you can imagine how super nervousss I am now. I haven't done much preparation yet except... a new white blouse. Yes that's it. I don't even have a proper "serious" shoe to wear for the interview. I don't think wearing my new zebra-printed heel is a good idea (actually, I think it looks more like tiger prints than zebra). And oh God, my scripts! I need to practice more. But my nervousness has taken over me, I can't think positive. I can't even think straight.
Why do I choose Marketing line, again?
Oh God, oh God.
I need something to calm me down. And no, shopping is not the answer this time. I need words of encouragements. I need all the luck I can get (
if
there's such thing as luck). What if I get so nervous, I suddenly pass out??
Alrite, that's it.
How do I stop myself from being paranoid?
Labels: Random Stuff
Friday, September 28, 2007
Labels: Beauty/Skincare
Wednesday, September 26, 2007
I miss this li'l guy sgt2! I haven't seen and hold and kiss and kacau him for 4 days now.



To
Hariz's mama
: Happy Birthday, sis! And cepat la balikkk sini bawak Hariz deyy..
Labels: Family/Friends
Monday, September 24, 2007
I've been tagged by 2 Nadias (heh, cuba teka? Hint: Mereka berjiran ;p).


5 things in my bag:
- my Coach wallet
- tissues and oil blotting papers
- compact mirror
- my handphone
- lipgloss, lipbalm and hand cream



5 things in my wallet:
- IC, driver's license, ATM cards, Herbalife ID
- Membership cards
- photos of me and MZ
- foodies and drinks cards
- some cash, and 1 US dollar note with 6 added zeroes behind ;p



5 favourite things in my bedroom:
- the pink wall and white furniture; 2 of my most favorite colors in the world!
- my queen-sized bed and a matching bedside table to put my magazine collection. It's all mine now!
- build-in wardrobe; there are sections for my bags, shoes, undies, and of course clothes!
- treadmill (it's not like I ever use it, but it's cool to have exercise equipment in your own room, no? Konon cam seorg yg active and fit la. haha)
- my mini library



5 things I wish to do :
- bake Apple Crumble. I miss my own Apple Crumble, bole tak? ;p
- read the unread books that I've bought ages ago
- get rid of my stretch marks. I've been living with them for 10 years now, so d'ya think that's possible?
- pamper myself with spa and facials and pedicure and manicure. I deserve a reward coz I have successfully lost a total of 10kg to date!
- sleep early. Since puasa ni asik tido kul 4am jer..



5 things I'm doing now :
- Facebook-ing. I am seriously addicted.
- Chatting with Kak Mona regarding Herbalife
- Sniffing my arm, wondering if I could lick it. I smell like milk + almond. Yum!
- Checking my Friendster
- Doing this survey, of course



5 people I would like to tag:
- Hanis
- Mrs Imran
- Kak Shay
- Kaezrin
- Hunny

Labels: Tagging games
Saturday, September 22, 2007
A week of fasting has passed, and guess what? I managed to shed yet another kilo off my bod - which makes me now weighing at 46kg! *gasps* And not only that, I also lost 1" around my waist (which explains why my Levi's jeans is loosening) and I've got rid 1% of my body fat percentage. Niceeee! Oooh wait, there's more. My Basal Metabolic Age is 18! :D Well, in plain English it means my body functions like an 18-year-old. So it's like I'm 6 years younger than my real age! (maybe that's why I look like the youngest? haha).
I know it's Ramadhan and everything, but you know, I've
never
lose weight during fasting month before Herbalife - seriously. Gain weight lagi ada la bcoz I used to qada' mkn masa sahur and berbuka! ;p
To be honest, I don't really control my diet (I've been snacking on chocs everyday ever since a week before puasa, and as I'm writing this I am munching on chocolate chip cookies) but yet I still lose weight. The only thing I do is that I take Herbalife shake for sahur. Yes, that's it. And it's awesome bcoz I get to lose weight drinking yummy shakes everyday!
And
my sister
, who is a full-time breastfeeding mom is also consuming Herbalife shakes, and has lost 6 inches from her waist in just 7 days! ;)
I'm gonna share with you some of my shake recipes that I've been having all these whiles bcoz I truly trulyyy enjoy drinking 'em. I started to be creative with my shakes ever since volunteering for the Shake Team for Herbalife STS. Don't just stick to one flavor, mix 'em around! Imagine eating rice with the same one
lauk
everyday. Sure boring kan? Same goes to this.
My fave flavors are French Vanilla and Dutch Chocolate btw, and my fave soy milk is Soyfresh bcoz there are 5 flavors to choose from, other than the plain soy. Here's some of 'em:
Banana Mocha Shake
2 scoops of Formula 1 Dutch Chocolate
1 scoop of Formula 3
1 banana (I like to use
pisang berangan
)
200ml Cappuccino Soyfresh
100ml plain water
some ice cubes
Banana Nut Chocolate Shake
2 scoops of Formula 1 French Vanilla
1 scoop of Formula 3
1 banana
1/4 teaspoon of crunchy peanut butter
200ml Chocolate Soyfresh
100ml plain water
some ice cubes
Strawberry Chocolate Shake
2 scoops of Formula 1 Dutch Chocolate
1 scoop of Formula 3
1 cup of frozen strawberries
200ml Soy (or Strawberry Soyfresh if you're not using real strawberries)
100ml plain water
some ice cubes
Malt Chocolate Shake
2 scoops of Formula 1 Dutch Chocolate
1 scoop of Formula 3
1 scoop oats
200ml Malt Soy
100ml plain water
some ice cubes
Banana Hazelnut/Almond Shake
2 scoops of Formula 1 French Vanilla
1 scoop of Formula 3
1 scoop of ground hazelnut or almond
1 banana
200ml Soy
100ml plain water
some ice cubes
Fruity Smoothie
2 scoops of Formula 1 French Vanilla
1 scoop of Formula 3
200ml of Dutch Lady yogurt drink (any flavor that you like)
100ml plain water
some ice cubes
Those are just some ideas. You can create your own shake based on your own creativity.
Labels: Herbalife
Friday, September 21, 2007
I have a hidden talent that I'm not aware of.
Or at least, that's what this
quiz
tells me:
Anyway, there's a reason why that image appeals to me the most right at this very moment. I'm so thirsty (after finishing up a whole tupperware of cookies!) and there's no sign of drinks anywhere near me so when I saw that image, I pictured myself at the bottom of the waterfall with my mouth wide open....


Ok, I seriously need a drink.

Labels: Random Stuff
Friday, September 14, 2007
Shoes: High-end vs. High-street
Labels: Shoes
Wednesday, September 12, 2007
Look at this cutie cherub - dia suda botak! But he's still my favorite nephew! (macam la haku ada byk nephews..huhuh)


I miss his hair tho - but hey, hair grows!


Anyway, I would like to wish all Muslims Happy Ramadhan! My fam may not be going for Umrah tho, bcoz there's a glitch with my grandma's maid's visa and we're not sure when it would be solved. Plus dad's in Turkey and off to Europe pulak lepas tu and God-knows-where-else... *sigh*

Labels: Family/Friends
Monday, September 10, 2007
I decided that floral top isn't my signature look anymore ever since I started wearing printed
tudung
. Perhaps it's bcoz I've been wearing floral tops for yearssss, and now I can't even bring myself to wear 'em. Macam dah boringg. Once in a while ok la kot..
It's time to change my style from cutesy-girly-look to a... well,
something
else. Something like what Nicole Richie is wearing in this pic (minus the boots of course). I really
really
love the ruched top! Do you know where I could find one like that? There's one at Motivi, but it's kind of like silky gold, so I don't think it's suitable for casual wear....
Anyway, the great thing about plain colored top is that mostly the price doesn't exceed RM200 (sometimes less than RM100) so that's just awesome! Plus, you could accessorize with belts and bangles and necklaces. I'm currently eyeing for these tops from
Topshop
, and I'm gonna get the ones with ruched sleeves especially.
Labels: Fashion
Tuesday, September 04, 2007
I've been receiving lots of anonymous phone calls
for
a man called "Syamsul Bahrain" for like every 2-3 days a week ever since I've changed to my current phone number, which was end of last year! Seriously. It's like my weekly routine to receive at least 2 Syamsul-Bahrain phone calls. And it's getting so irritating especially when those people macam tak percaya and they keep on asking me stuff like,
"Do I know Syamsul"
and
"How long have I used this number"
and
"Betul ker tak kenal dia"
and
"This is 012 bla bla bla right?"
and lots more. It's been more than 8 months now, so you can imagine how crazy this is driving me.
Anyway, it turns out this Syamsul guy is wanted by Citibank. And I guess those people thought I berkomplot ngan Syamsul tu kot. What do I do now? Should I just biar jer and keep on telling them it's the wrong number, or what? Sometimes I feel like retorting, "Oii salah nombor la, tak paham2 bahasa ker??!". Hish.
Labels: Random Stuff