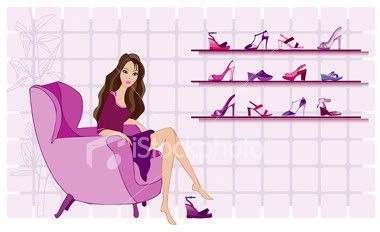 Wednesday, March 28, 2012
A girl can never have too many shoes
Nobody told me that my feet would get bigger after pregnancy and stay that way....till now. Or is it just me? Do your feet shrink back after having kids?
Mine don't. In fact, they went up one size after each pregnancy. I was a size US 5, pre-pregnancy. Then after having my 1st child, my feet went up one size. And now after having my second one, it went up one more size, which makes me now a US 7! Can you imagine how big my feet would be if I have like, 5 kids?? I'd be a size 10. SIZE 10! *gasp*
None of my pre-pregnancy shoes fit me well now. And all those shoes - those pretty Nine West and Aldo heels that I bought during my two pregnancies (which I was planning to wear after delivery) are now safely tucked in the store room (ok, I've let go some of them).
But that's ok. Because that means I get to shop for new shoes to replace my old ones. A girl cannot live with just 2 pairs of shoes. Please understand that, guys.
I had never purchased shoes online before until
quite recently
. And now I'm addicted! I'm currently loving Jessica Simpson, Chinese Laundry, Seychelles and Madden Girl shoes - brands that I've never worn before. They are so comfy, especially Jessica Simpson. Her shoes are my absolute favorite!
I purchased mostly platform heels and these are some of my favorites:
From above:
Chinese Laundry Fearless
,
Jessica Simpson Bendie
(Brule),
Jessica Simpson Halie
,
Jessica Simpson Princess
,
Madden Girl Sookie
and
Jessica Simpson Bendie
(Nude Snake).
Now I just need 3 more pairs of shoes. Yellow, teal/turquoise and red. And I'll be done shopping for shoes.
Please feet, do not get any bigger!
Labels: Shoes