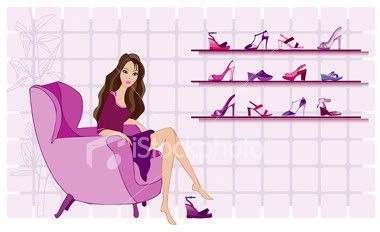 Friday, October 17, 2008
(
NOTE: Lately, I received a few emails with added notes saying something like
"please do not post this to your blog"
. Ok I think I need to clarify some things here. Those whose emails are published here are either as requested/suggested by the senders, or I would ask their permissions first before doing so. I do NOT simply publish people's emails in my blog so don't worry!)
Salam Iza,


The reason i'm writing to you is to seek for your advice...I know you're the right person since you have enormous knowlegde on shoes & handbags and of course fashion...you're like my fashion idol...hihihi...



So, as you know, i am currently working in Sg and the culture here is everybody walks to work...(bukan directly walk to work but first to MRT station which is around 5-10 mins walking, then MRT ride, then walk again...i think you get the picture)...usually, i pakai flat shoes aje for the 'walk'...but lately, (since reading your blog)...i am attracted to 'ladyish' wear...so masa balik cuti Raya hari tue, i bought 2-sets of heels...excited...but unfortunately, dua2 kasut xcomfortable langsung, and i end up with blisters all over my kaki...both side plak tue...sakit...now, i am back to flat shoes...



But i think, surely there are comfortable
high heels
that exist in this world kan?..hihi...maybe with your experience, you can recommend me (or to your blog) on some of the brands which are comfortable in walking...with price range from the lowest to the highest...regardless the brand...
I would really appreciate your help...



With thanks;
A desperate woman trying to overcome her womanhood issues, Tasya ;)
Hello Tasya,
Wow, fashion idol? Seriously, I'm not up to that level yet. I do love to dress up and experiment with styles, but there are times when I look sloppy too. I still have those
"what-was-I-thinking-wearing-that"
moments, just like everyone else. But anyway, thank you; I feel honored! :)
Okay, let's get on to the subject.
High heels are one of fashionable items that will never go out of style. But as the saying goes, beauty is (sometimes) pain; being fashionable is not always comfortable, especially when it comes to.... yup, high heels!
Some women are intimidated by high heels and wondered how others are able to walk hours in them. The great news is, there is such thing as comfy high heels. Of course, a comfy high heel is not like a comfy pair of sneakers or flats, so the definition of comfy-
ness
may vary for each individual who are used to a certain type of footwear. Here are 5 tips of what to look for in a high heel based on my own experience:
1) Thicker heels are easier to walk in rather than narrow heels or stilettos, especially for those with heavy build bcoz it gives better weight distribution and stability. To prove that, now that I'm heavily pregnant, I can no longer wear stilettos comfortably like before, which is why I opt for thicker heels.
2) Avoid very pointy shoes (high heels or not), especially if you have chubby toes like me. Walking with your toes crammed in a pointy shoe can be very painful so look for open/square/round or at least peep toe shoes (which is actually my favorite).
3) Also, avoid back-less heels. Pumps, slingbacks or strappy heels are easier to walk in (especially when going down a staircase) bcoz they cling to your feet and add support to your ankles.
(Shoes from Urban Original)
4) Platform heels are the best and the most comfortable to walk in! If you're not used to walk in high heels, look for shoes with platforms - the thicker, the better (ok maybe not
too
thick) - bcoz it will minimize the pressure between your heel and the front part of your foot. So let say if the heel of a shoe is 4 inches and the platform is 1 inch, you are actually walking in a 3-inch heel, rather than 4 inches!
5) Material of the shoes plays an important role as well. I find shoes that are made of satin are the comfiest bcoz the insides are usually soft and supple, like this Nine West peep-toes (which I got as a
birthday present
). It's one of the most comfortable high heels I have ever worn!
Besides that, cork heels are also comfy. They're lighter compared to any other heels so walking is a breeze! Here are some examples of cork heels: .
Believe
by Guess
Anne Michelle Flare by Urban Original
Sonia by Urban Original
5) The most important tips to know whether a high heel is comfy or not is that it should feel good when you first put it on. Your feet will tell you straight away if there's any problem with the shoes. Don't believe a word when the sales girls tell you about the ability of the shoes to expand or whatnot; different feet responds differently to different shoes. If your feet are already uncomfortable when you first slip into a pair of shoes, how are you supposed to even
walk
in them? There are a lot of other shoes you can choose, but you only have a pair of feet so move on to the next shoes!
Now although I am a high-heel girl, I do not wear them
every
day. If you're constantly moving around on foot, you should take a break, change to lower-heeled shoes or wedges once in a while and give yourself a foot massage. Some foot/gel pads which are designed for high heels can be helpful to some (although I don't notice any difference wearing them and I find those pads quite troublesome actually).
As for brands... I can't quite say which brand of shoe is the comfiest. Those high-heel shoes that I'm most comfortable in do not come from a specific brand - some Nine West, Eclipse, Guess, H&M, Aldo and even Vincci high heels are comfy. Some are not. It all depends on the design and material, as stated above.
Labels: Shoes