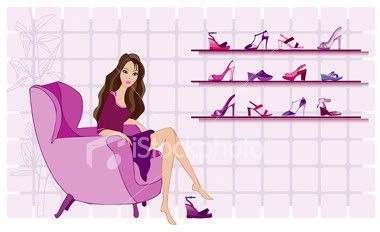 Thursday, September 15, 2011
If there's one thing I could do all day without ever getting bored, it's SHOPPING.
Just thinking about it makes my heart leaps. The mall is probably the only place I don't mind being all alone by myself. I don't care if I have to wait for hours for someone if I'm in a mall. As long as I'm surrounded with shops, I'd be the happiest!
There's a reason why shopping is called "retail therapy" - because really guys, shopping is therapeutic *smirks at my husband*. The sight of the things your heart desires and the satisfaction when it finally becomes yours... there's nothing like it! *hugs my Alma*
I believe all women love shopping. Even my 90-year-old grandma loves shopping! I remember a couple of years ago when she was in KL, we took her to Jusco and she shopped a lot! She bought food, sofa pillows, kitchen towels, flower vase, slippers, some clothes and other knickknacks. I've never seen her shopped like that before. She said,
"Sedap membeli ni"
in her Pahang slang. LOL. Now I know where my shopaholic-ness came from.
But yeah, I do admit, going on a shopping splurge can cause damages to your wallet. Which is why I have this secret little shopping fantasy. I often fantasized about being the 10,000th shopper in a mall and someone at the entrance would go like,
"Congratulations! You're the 10,000th shopper today and you just won yourself RM10,000 shopping spree!"
.

Oh well, it may just be wishful thinking but there's something quite similar.

I just found out that Celcom Xpax is giving away awesome shopping sprees. I don't know if you've heard of TALK-A-THON before, but if you're on XPAX, U.O.X or S.O.X, you might have a chance to win RM5,000 shopping vouchers! All you need to do is make 3 additional calls a day above your July 2011 daily average (Dial *118# to find out your average daily calls). It's that simple.

You also qualify if you're a Celcom Broadband or Instanet user.
Here's how:-
Celcom Broadband:
Purchase additional data volume (1GB@RM15, 5GB@RM50)
Send 20 SMS (15 sen/SMS) in a day using your Broadband
Upgrade your package (eg. Celcom Broadband Lite to Basic, Basic to Lite, Advance to Pro)

Instanet:
Subscribe to any of Instanet Daily (RM5), Instanet Weekly (RM18) or Instanet Monthly (RM50)

There will be 5 daily winners chosen EVERY DAY from 15th August till 30th November 2011, so your chance to win those RM5,000 shopping vouchers is even greater! Find out more at
www.xpax.com.my/talkathon
. You can also check the list of daily winners there.
In case you're wondering where you can use the vouchers, some of the participating merchants includes Topshop (Penang & Klang Valley only), Forever 21 (Penang & Klang Valley only), Parkson, i-Study (Apple authorized reseller - Klang Valley only), IKEA, Cold Storage, Mercato, Giant, Econsave, Guardian, Celcom Blue Cube, etc.
Keep on talking and who knows you could be going on a shop-a-thon soon!
Labels: Advertorials, Sales and Shopping