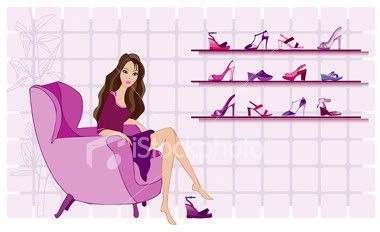 Wednesday, October 27, 2010
After trying out three types of Spanx, I guess it's time for me to make a review! (I hope this answers your questions, to those who emailed me).
My very first Spanx is the
Hide & Sleek Slip-Suit
which I bought from eBay about a year ago.
It's a one-piece body shaper made of smooth sleek fabric which I love! This is the least stretchy of all three that I've own (with only 10% Spandex) but I actually like it because I find it easier to wear compared to the other stretchier two. It's super comfy, smoothed out the lumpy bits of my body and since it's a one-piece, I don't have to worry about it rolling down. I don't know how to explain this but this slip-suit actually made me feel "secure". It's like, my fats are all tightly sealed and I can move around freely without worrying about spilling my "secret"!
But when nature calls, this one-piece body shaper can give you a BIG problem! The cotton double gusset didn't help at all; in fact I wish they didn't make a hole down there! It's impossible to pee through it without dripping. Trust me, I've tried it (eww, I know!). Well, that was the first time. The second time I wore it, I had to take off everything just to pee and spent more than 30 minutes in the toilet! And so because of that, I decided I would only wear this Hide & Sleek Slip-Suit to short events or functions, one that I know I won't be visiting the toilet. But despite the pee-problem, this is actually my favorite piece of Spanx!
Since nature's call is not easy with the Hide & Sleek Slip-Suit, I decided to purchase a mid-thigh shaper so I chose the
In-Power Line Super Higher Power
. It's like the cheapest mid-thigh shaper from Spanx. I bought it with the help of
my friend
and wore it during my confinement as a substitute for traditional binder (bengkung).
I'm gonna be honest here. I don't really like it! Well, probably because I have something so much better. When I first tried it on, I was disappointed and couldn't help comparing it with the Hide & Sleek. The fabric is thin and I had to be really careful when I put this on as I was afraid I might rip it (but so far it hasn't). Of course wearing this was a lot easier and comfier than wearing bengkung (I wore it for night time during my confinement). The nude color was darker than I expected and it doesn't look anything like the picture in the website. It looks worn out after just a few washes (I machine wash all my Spanx in a laundry bag, on a delicate cycle). Peeing is not really a problem with this one tho but the top band rolled down and it's not comfy when that happens because you have to keep on pulling it up. It does smooth out my tummy, thighs and bum, altho not as great as Hide & Sleek.
My third Spanx:
Slim Cognito Shaping Mid-Thigh Bodysuit
. I bought it from
Freshpair.com
and it ships directly to Malaysia. Yay!
I had really high expectations for this one because it was recommended by Spanx Customer Care (I contacted them, asking for advice) as it offers maximum compression. When I first got it, I really loved it! But after wearing it for a few times, I changed my mind a little. I mean, yeah it's comfy, it offers great compression and the material is heavier/thicker and 10 times better than the Super Higher Power (hence the price).
You can totally see the differences between Super Higher Power (left)
and Slim Cognito Mid-Thigh Bodysuit (right)!
But the top band slipped down a little after awhile. I'd say about an inch from under the bust. I guess that's the problem with all mid-thigh shapers? Or maybe because I'm just so fat! I would have loved this one if it's not because of the slip-down top band. I've yet to try attaching the removable straps to my bra; maybe that will prevent it from sliding down. But I wonder if it pulls the bra down instead. Anyone had any issue with this?
Of all the three Spanxs I have, I would say my favorite in terms of hiding lumps and bumps would be the Hide & Sleek Slip-Suit. I don't know, I just LOVE the fabric (and probably because it's a one-piece shaper)!
Take a look at the difference. Hide & Sleek is the smoothest of them all!
Basically, all Spanx body shapers help to smooth out lumps, hold in bulges and bumps, and hide panty line. But one-piece shaper is probably the best kind of shaper to smooth out lumps and bumps as it covers more (even that disgusting side bra fat, if you know what I mean), but going to the loo would be a hassle. You won't have pee-problem with mid-thigh shaper tho, but you might have to deal with the troublesome top band that keeps on sliding down. If you don't mind going through the hassle of peeing, then I'd definitely suggest the one-piece shaper.
As much as I love Spanx, I won't say this is the solution to have a slimmer body. It's just a temporary solution. I mean, you wouldn't want to wear something so tight 24/7, would you? Well I don't. And I'm looking forward to the day when I would only wear Spanx on special occasions or events - not almost every time when I go out! But that's just me. Every time when I put on my Spanx, my husband would be so amused. The things we women do to look beautiful!
Labels: Fashion