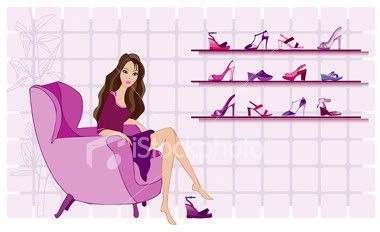 Monday, May 10, 2010
Bought these Nine West shoes over the phone the other day.
Yes, you heard me. Shoe shopping. Over the phone.
As in phone shopping.
It's not exactly like online shopping. In fact it was a lot tougher than online shopping because there were no pictures to look at. I just had to use my imagination and create mental images from the verbal description that I got over the phone. Not easy, I tell you.
You see, I was in the car and
my sister
was at Pavilion. She SMSed me about a Nine West event she attended and the next thing I know, I was on the phone with her trying to purchase some shoes!
I made her describe every single shoe that she likes including the color, height of the heels, material and any itsy-bitsy detail. My God, there were a lot! So I narrowed it down and told her I wanted platforms and slingbacks.
"This one is kind of like pale blue, tapi cantik. Suede. Lace-up front, 3-inch heel"
"OMG yang ni cantik! Warna brown, back zip, kind of like gladiator kot. Stacked heel and ada platform"
"There's this one shoe that's like your Eclipse gunmetal heels tapi lagi cantik. Material dia macam kulit buaya. Eh no, macam snake skin kot. Eh entah la tapi cantik la. It comes in pink, gray and yellow. I bought the one in pink. Gray pon lawa"
"Oii ko nak mana nii aku dah penattt! Ehhh yang ni lawa gilaaaa apsal aku tak nampak tadi?!"
And on and on and on....
Of course I couldn't make up my mind. Berserabut minda aku! So in the end I just let her choose any two shoes and those are what she got for me. I have to admit that I wasn't so sure about the brown caged platform with knotted straps when I first laid my eyes on it. It's very different from the shoes that I normally wear. Too hmm... ganas maybe? Somehow it reminded me of Xena The Warrior Princess. But after a few tries, I can happily say I like it! Yes it still looks ganas on me but it's actually comfy to walk in! My feet feel secured being strapped in the "cage". But it's so hard to put on and off tho. Maybe that's why it's secured?
I don't have any issue with the gray shoes, by the way. I knew I like it the moment she said croc/snake skin! (It's actually lizard-embossed leather).
Labels: Shoes