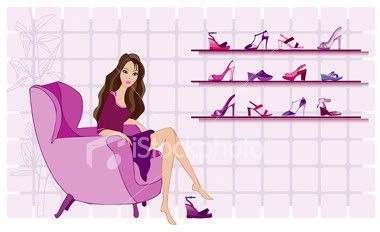 Wednesday, January 20, 2010
I've never shopped with my baby alone. There's always my husband to accompany me most of the time. Or I'd leave my baby with him and go shopping with my sister instead.
But yesterday I decided to spend a couple of hours at Pavilion, just me and my baby, while my husband attended a seminar at the Grand Millennium Hotel.
Of course now that she knows how to walk on her own, she refused to sit in the stroller. She wanted to push the stroller instead. Fine. So I let her push the stroller and let her lead the way, wherever she wanted to go. We went inside Parkson (I guess because she saw giant dolls a.k.a mannequins). She stopped in front of a female mannequin at Miss Sixty who was wearing bright red pumps. She tried to take off the shoes but of course she can't. After several attempts of trying, she gave up and went to the clothes section. Satu-satu baju dia try nak capai. At last I picked her up, put her in the stroller and went out of Parkson.
Next, we went to Forever 21. I made a quick browse and grabbed whatever tops I could get my hands on because Ayra was screaming at the top of her lungs as a protest to free her out of the stroller. I freed her in the dressing room while I was trying on some clothes. Suka hati dapat lepas! She licked the mirror, played peekaboo with my clothes, banged on the door. And then when it was time to get out, dia tak nak. Cakap "bye bye" pon macam tak kisah. Instead, she went in and out of three other dressing rooms to check out the mirrors.
Then we went to the jewelry section. I wanted to check out the necklaces... and so did my baby. The lowest level of necklaces on display was about the same height as my baby, so everything at that level were reachable by her. She saw this one particular necklace with a big oval pendant, put it on her ear and began talking to herself, like she was talking on the telephone.
Lepas tu dah boring, dia jalan-jalan masuk bawah meja display pulak. She saw a Chinese lady at the opposite direction (who was crouching while looking at a few necklaces) and Ayra walked to her and tried to touch her bag. The Chinese lady saw her and greeted
"Hi baby!"
, but instead of saying anything back in her own language, Ayra let out a stinky fart. OMG OMG! I apologized, made a quick dash to the cashier to pay for my stuff and get out of the shop.
We went to another 2 shops. Last-last dah tak larat nak kejar dia, I went to baby's changing room and let her do her own thing in there. Phew.
That has got to be the most tiring and funniest shopping trip I have ever experienced!
Labels: Mommyhood and Baby