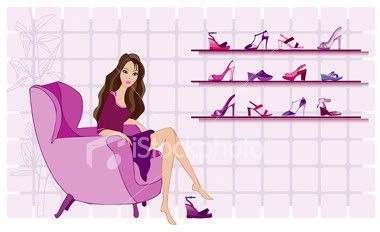 Wednesday, October 22, 2008
Let's do some shoe-shopping, ladies!
I don't know what is it about shoes, but I can't seemed to get enough of them.
I'm sure you ladies feel the same way too!
Recently (actually, it was last night), a chat friend of mine told me about the shoes at
GoJane.com
. I have never heard of the website, nor have I heard of the brand name but the shoes are fab! They look like Guess and Aldo shoes but at half the price (or even lesser)! Some are on sale, and there's even a pair of peep-toe slingbacks at only $9.99!!
Here are some that caught my eyes. Notice the first one (the black studded platform) looks like the
Dior Gladiator Platform that Sarah Jessica Parker wore in the SATC movie
!
Now here comes the best part.
My chat friend is gonna place her (and my) orders soon. If you're interested to purchase any of the shoes at
GoJane.com
as well, here's your chance!
Simply email your orders at
spreesforyou@gmail.com
and include these details:
Shoes:
(the url/link to the shoes you want)
Color:
Size:
*Note: The sizing is the same as any American shoe brands like Guess and Nine West. For example, I'm a size 5 or 6 for shoes like Vincci and Eclipse; when it comes to US size, I'm a 6.5.
As of now, shipping cost could not be quoted yet as it is based on the total amount of purchases. But the more shoes, the lesser the shipping cost! Jadi, mari order beramai-ramai!
Last order is on Friday (24th Oct)
.
Everyone's total price will be notified on Friday night. Payments need to be made on the same day, Saturday or Sunday to my friend.
Please also note that:
1) All orders are not exchangeable nor refundable.
2) We will not be held responsible for any loss or damages incurred during shipping.
Thank you!
**UPDATED**
Sorry, orders had to be closed earlier due to high demand, so no further orders will be accepted.

Labels: Shoes