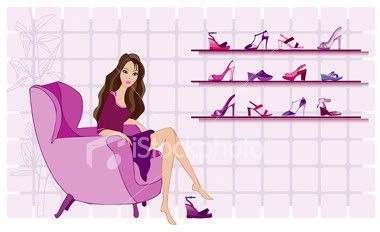 Tuesday, December 11, 2007
Remember the bronze GUESS peep-toe wedges that I bought about a decade ago? Yeah well, since buying it I have only worn it once - which was about 2 hours or so bcoz within the first 30 minutes of walking, it started to
bite
my feet like nobody's business and I was actually limping trying to walk in those, bcoz the shoes are a weeeeee bit small for my feet and well, it's a pump (I can never wear any pumps! *sobs*).
Then recently I've found a way that could 'enlarge' the front part of the shoe without having to go to the cobbler or any shoe experts. What I did was squatting on the tips of my toes, with my shoes on for a few minutes. It helps to expand it a little, and so the too-tight-front-part problem has now been solved.
I'm still searching for the solution for my other shoe problem tho, which I always
always
have with pump shoes. I do not have a problem wearing high heels (except the tiredness after a 6-hour walk, which is pretty normal), but when it comes to pump shoes, my feet totally refuse to tolerate. It's kind of like a love-hate relationship, you know. I've tried everything - biting the shoe, waxing it with candle (I could not find a proper candle so I used the birthday candle from Secret Recipe), folding the edge of the shoe to expand it and I also tried
Bama Smiling Feet
invisible gel strips which I put at the back edge of the shoe. But nothing works so far. The shoe still hurts. It's so frustrating bcoz I personally think pump shoes look more posh and elegant than sling backs, and there's about a hundred pumps I've been longing to wear, like these beauties from
GUESS
and
Forever 21
...
How
do you wear pump shoes? Is it just me, or is pump shoe really that agonizing?
I really want to be able to wear my GUESS wedge-pump. Help!
Sticking the handsaplast (is that how u spell it?) thingy at the back of my feet would be the last resort bcoz it's kinda leceh la, especially sbb nak solat...
Labels: Shoes