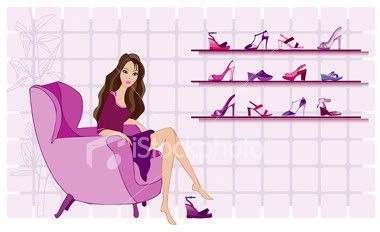 Monday, February 05, 2007
Calling all SIX-ers and HEEL-wearers!
Oh wait. There's a size 5 as well.
I am
de
cluttering my room. Well, under my bed to be exact. There are boxes of shoes, luggage, bags, dust (and hair!), more shoes in shoe boxes, dead insects (just teeny ones tho) and yet another pair of shoes stashed away. It's a real mess, I'm telling you. And I would really appreciate if you could help me sort out this "mess".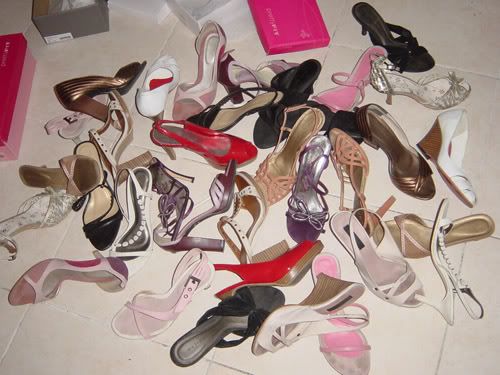 I am a true high-heel girl, aren't I? How I wish those are of Chanels and Ferragamos tho...
Gee... I never realized all this while I've been chucking nearly all of my shoes under my bed. It's like tempat pelupusan kasut or something. Most of them are hardly worn; there's even a pair of new unworn high-heels! No wonder it always seemed like I don't have any shoes. And ok, let's not forget those shoes that I kept "safe and sound" in my wardrobe at home now.
So anyway, here's the part where you could help me:
Since I'm now stepping an inch ahead, my 3-inch heels are.. you know, kind of being "abandoned". I really love 'em but what's the point of keeping something you know you won't/can't wear anymore, right? (plus I'm actually a size 5 foot). So I'm giving some of 'em away to anyone of you who wants 'em bcoz I know they will be in better hands (or rather,
feet
) instead of being stashed under my bed with dead insects for God-knows-how-long.
Currently, I have 6 pairs to let go - for free (yes, you heard me. FREE). You only need to pay for shipping and handling, which is RM10. All of them are in good condition.
1) VINCCI Peach-colored Slingbacks

(taken!)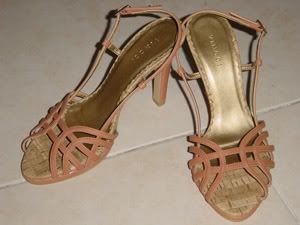 - Size 6; 4-inch heel; Never worn (yes I know this is not a 3-inch heel, but I just can't bring myself to wear it. Don't ask me why I bought it in the first place; just take it!)
2) ECLIPSE White Pearly Slingbacks

(taken!)
- Size 6; 3-inch heel; worn once/twice
3) ECLIPSE Black Suede Heels

(taken!)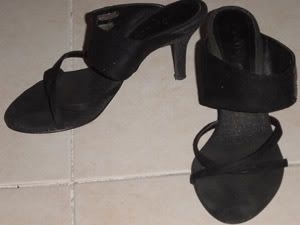 - Size 6; 3-inch heel; worn not more than 5 times
4) ECLIPSE Pink Slingbacks

(taken!)
- Size 6; 3-inch heels; worn not more than 5 times
5) ECLIPSE Black Slingback

(taken!)
- Size 6; 3-inch heel; worn once/twice
6) NOSE Pink Suede-like Peep-toes

(taken!)
- Size 5; 3-inch heel; worn once/twice (The ankle straps of this shoes are missing, but you can still wear 'em without the straps)
Now to be fair and square, one person can only choose one pair of shoes. First come first serve basis, of course! So hurry, email me at
iza[underscore]mirilyea[at]yahoo[dot]com
.
Labels: Shoes