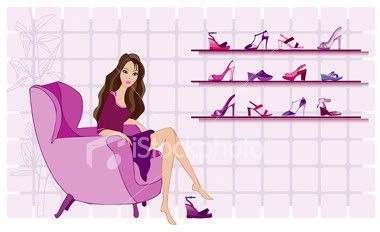 Tuesday, January 16, 2007
Don't judge a book by its cover
Well, the title says it all.


I recently bought a book (a box actually. The book was in the box), which I thought was very good and worth it that I didn't bother to check what's inside to have a look or something. Hey- it's pink, it's cute and it says "

Best Beauty Product 2007

" and "

over $50 worth of product samples!

" all over it; who would've thought that the insides were filled with junks? So as a natural impulsive buyer, I bought it excitedly without much thinking.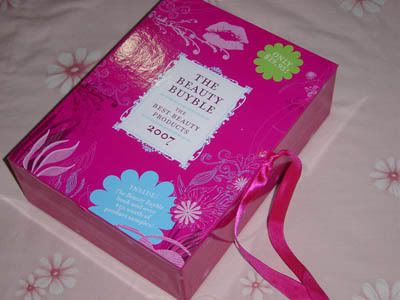 Later in the car, I was crushed to find out that the samples given are pieces of shite (excuse my language). I had luxury cosmetics in mind when I saw the word "product sample". Like maybe samples of Chanel foundation, Bobbi Brown eyeshadows, some lippies from Benefit and perhaps La Mer body c
ream or something. But instead, they are stuff that you can just get from drugstores or even for free (like free samples in mags). Nivea cream? Chupa Chups lipbalm? Banana Boat sunblock? And they call that "Best Beauty Product"???


Don't get me wrong now, I don't have anything against stuff like that (
I'm wearing Nivea lipbalm btw).
But I think there should've been more "high-end" product samples. The authors are just giving away samples that are from the Low-rating category, and none from the Outrageous or High categories langsung!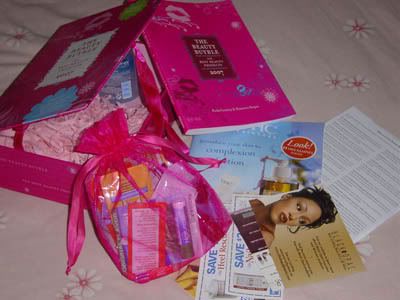 Honestly, I wouldn't give a damn if I were to purchase all of those and later found out that I don't like 'em. But I do give a damn if I purchase something expensive (like Benefit eye pencil, for instance) and then after a couple of times using it, I found out that I don't quite like it. So this is when samples should come in handy. Okay, so the whole box and sample goodies + book didn't cost over a hundred. But RM80 for a boxful of junk? I think that's outrageous. I could get a Stila Lip Glaze Stick and still left with RM5 to buy a Cinnabon, you know. I wouldn't mind if they are selling a boxful of luxury product samples for RM100, seriously! Arghh...geram geram! And the book is nothing like I expected - thin and softcover and the products reviewed are limited and mostly are only available in the States. What a rip-off! Our local magazines punya product reviews jauh lagi bagus tau.



And to make things even worse, last night I tried one of the samples given, which is DHC Deep Cleansing Oil (a skincare brand from Japan) and then today, I woke up with a huge zit on my left cheek! FYI, I haven't had a single pimple for months ever since I started using HL skincare. I am so pissed off! @#$!?%&$!!!
I should've bought VB's That Extra Half An Inch instead.


p/s: Has anybody tried any one of the foundations from Chanel? I'm thinking of buying one bcoz of the reviews I read on the net. But am not sure if it's any good for shiny skin like moi. The tinted moisturizer from Laura Mercier that I'm currently using is fine but u know, I am one curious lady...
Labels: Beauty/Skincare, Books