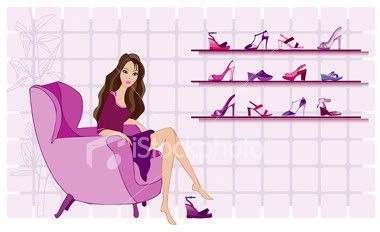 Wednesday, November 15, 2006
I've been refraining myself from shopping excessively these past few weeks - one, bcoz I'm saving for my Paris shopping trip (which would be NEXT WEEK!), and another reason is bcoz I need to set aside some money to invest in the little business that I'm in.


But I need to get just a few stuff before going to Paris. They are: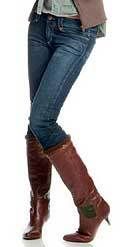 - a pair of knee-high boots. I want brown, but Wani has bought brown boots the other day, so I guess I have to get a black one. We can share, since we have the same size.



- skinny jeans. I'm thinking of wearing skinny jeans tucked into knee-high boots. I found one that fits me nicely at MNG but I don't really like the color. Need to check

- a jacket. Most probably I'll get one from MNG since it's much more affordable than the ones at Zara. After all, I'm only going there for a week so I don't want to splurge on one. I have these in mind. Which one should I get? There's one more but I can't find a pic of it. I'll probably choose a black jacket if my boots are black...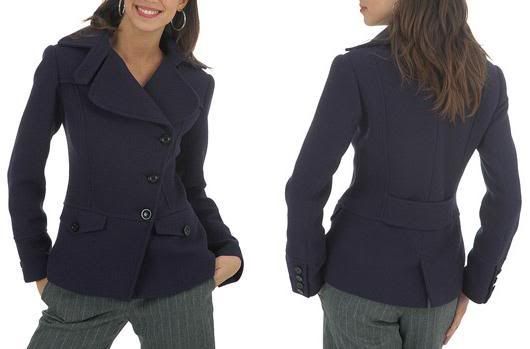 - A pair of gloves. Average max temperature is 9 degrees and average min is 3, so maybe I'll need it, just in case it gets freezing cold. Or maybe I could get one in Paris (the gloves I bought in Korea are missing, else I could just wear that!).

- a shoulder bag that's large enough to stash everything inside (I do not like sling/messenger bags).


I guess that's about it.


Btw, I'm drooling over this pink croc luggage from Prada. It's totally to-die-for! It'd be the most fab hand-luggage ever!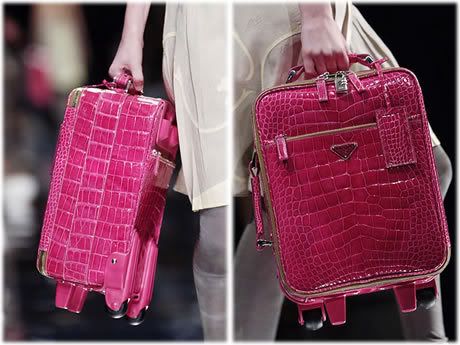 Picture from Purse Blog.
Labels: Sales and Shopping