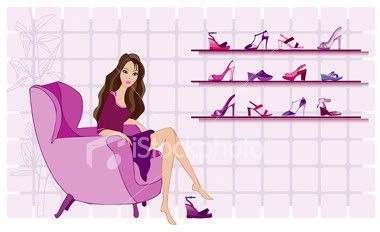 Wednesday, September 20, 2006
Tagging Game - What's In The Bag?


Let's play a little game - what's in your bag?
I'm tagging Mrs. Imran, Kak Shaynina, kaezrin, Kak Naddy, Naya (if ur blog still function dearie), Iva and anyone who's interested. C'mon, it'd be fun!


Okay, here's mine.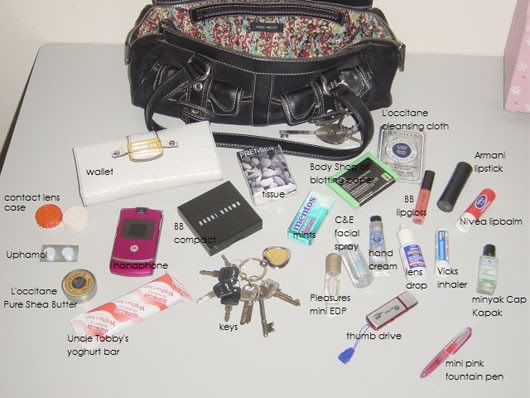 Nothing out of the ordinary, just a few normal essentials like my wallet, Motorazr phone, Bobbi Brown compact powder, contact lens case, lens drop, tissue, Body Shop oil blotting paper (my face gets really shiny by the end of the day like I've been deep fried or something so this one comes in handy), mints, keys with our names engraved on a heart keychain from him, L'occitane cleansing cloth, L'occitane mini pure shea butter (besides shiny face, I also experienced dryness on the tip of my nose and both the corners of my mouth so this one is like a savior to me), L'occitane mini hand cream, Vicks inhaler (I love stuffing my nose with this stuff, eventho I don't have a nose block), Nivea lipbalm in strawberry, Giorgio Armani lipstick, Bobbi Brown lipgloss (sometimes it's Stila lipglaze or Lancome Juicy tube), Uphamol, Crabtree & Evelyn facial spray, a mini pink fountain pen (there's one time when my boyfriend wanted to fill up a form and he asked me if I have a pen. So I took this pink pen out of my bag and handed it to him - and he laughed out loud! I don't understand what's so funny about it), minyak Cap Kapak (atau nama glamour nyer: minyak CK), Pleasures Exotic miniature perfume, thumb drive annnddd some snacks (it's either Uncle Tobys bar or IKO crackers)! *gasps for some air*

Not in the picture is my digicam.
So ladies, what's in your bag? ;)
Labels: Bags, Tagging games